Poetic Matrix Press Newsletter Summer 2021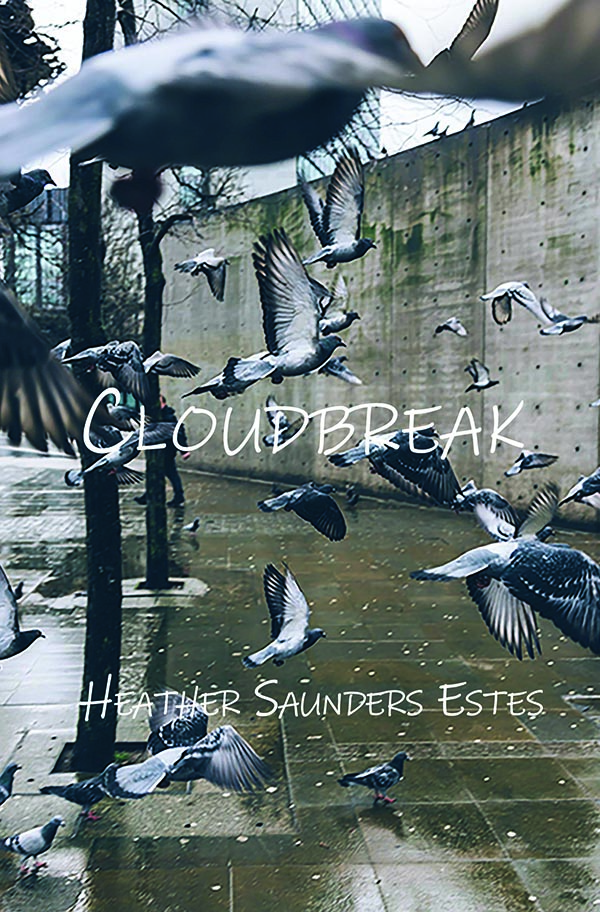 In Heather Saunders Estes' book, Cloudbreak, her poems are full of wonder, conflict, love, and luminous insight. To the reader, the lyricism of her work comes across as a bittersweet conversation. In the end, one finds the strength of her work comes from her courageous honesty as she constructs poems that are as delicate as petals pressed onto the page.
– Joseph D. Milosch, author of Homeplate Was the Heart & Other Stories
Cloudbreak is an act of San Francisco; kaleidoscope of fog and hills, wooden back stairs, relic garden plantings, monterey cypress and redwood trees. Heather Estes has created an intricate portrait of place quite separate from the version that appears in popular fiction. This is a recognizable 'tetris'.
–Kim Shuck, 7th Poet Laureate of San Francisco - title Rabbit Stories
When Heather left her valued, long-term career as Chief Executive Officer of Planned Parenthood Northern California after 37 years, she transitioned to writing poetry. Poetry is laughter, reflection, appreciation, and a call to action. Cloudbreak is her second book.
---
New on our website!
We are adding PayPal pay buttons so anyone can go to our site and buy a book with minimal complications. We have some of the books now and all will be available soon.
If you know of someone who wishes to buy a book send them to www.poeticmatrix.com. The author makes the highest Royalty and the press has fewer intermediaries and so makes the most money. Books of course are on all online sources and yes indeed, bookstores.
---
Patricia Nelson received a fine review of In the Language of Lost Light in the Harvard Review, reviewed by Susan E. Gunter. You can see the review by clicking on Harvard Review
KUDOS TO PATRICIA!
---
Rainbow Brothers
by Miles, Neyah, John
Into Light
by Lee Underwood
We Stand Up For What's Right
by Hassan El-Tayyab and Audra Caravas
What Remains
by Charles Entrekin
At This Table
by Raphael Block
Whispers of Krip Love Shouts of Krip Revolution
by Lateef H. McLeod
Homeplate Was the Heart & Other Stories
by Joseph D. Milosch
Conjugal
Alicia Vandevorst
Chronicles in Passing
by Carol Smallwood
---
If you have a website/honors/reviews/special gift (music, art etc.)/album, that you would like to place in our PMP Newsletter and/or on the PMP website, please email the information to poeticmatrix@icloud.com.
And here is Brandon Cesmat's recent music album. Brandon is a fine muscial and his lyrics are beautiful poetry.
Califor-Noir lyics/vocals by Brandon Cesmat
Produced/Arranged by Peter Sprague
Available at Califor-Noir by Brandon Cesmat on Amazon Music - Amazon.com
---
Thanks to all the authors and friends of the authors and friends of this press for their continuing support and for their financial support. We continue because of this support.
---
"Here's the thing with me and the religious thing. This is the flat-out truth: I find the religiosity and philosophy in the music. I don't find it anywhere else." – Bob Dylan
"A library of poetry books lends itself to another pleasure. On occasion I have been asked to present a reading of appropriate poetry at the New Thought Spiritual Center. Picking a theme, I can peruse the more than 50 poetry books our press has published (at the time) and present the theme from many poet's considered view. Not only does it make a delightful presentation but the pleasure in going through these many authors, seeking the right pieces, is immense." – John
---
As we all know it has been a difficult year. It seems we are coming out of it. I have been vaccinated and have traveled to visit family, including my grandsons. I plan to do more. I would like to get a press poetry reading going in the San Diego area and the San Francisco area. If you know of a venue, would like to assist or just have information please let me know. We have many good poets in these areas. – John