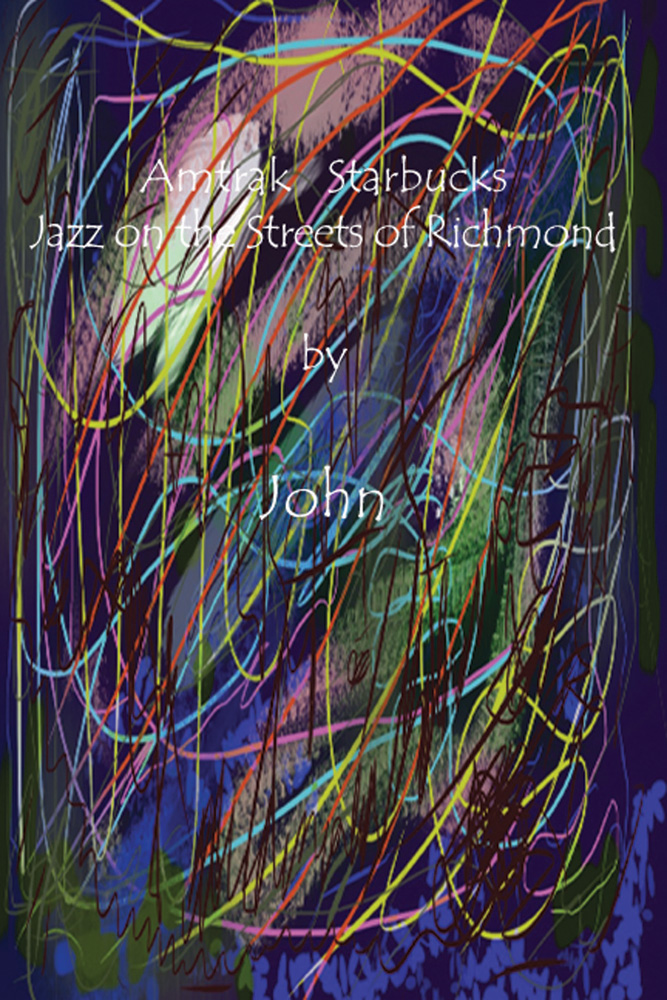 Amtrak Starbucks Jazz on the Streets of Richmond
by John (Peterson)
Kvasir Books
ISBN: 978-0-9981469-9-7
81 pages, $18.00, poetry
Description
The Book
What he has assembled here is a set of poems written in the aftermath of a divorce. I like this book so much that I am almost grateful for the divorce, because without it, I doubt we would have such a window into this gentle soul. Here there is pain, and joy, and something that straddles them, what John at times refers to as "beauty."
The poetry is disarmingly mature. He's not trying to impress the grownups because he knows he is one of them, and is in fact contending with being among the elderly—quite a shock to those of us who remember dressing in bandanas, discovering the legends of rock music, and marching against war. We were there celebrating youth, and now we are old. Oh well.
But as John points out, sublime moments, the kind we think of as "beautiful" are lost in coarse environments, which is it seems, where John concludes. With several poetic statements about the resurgence of war culture, like our own, John calls us back to our younger halves, the ones that marched oh, say, 50 years ago. Many things of beauty came out of this vortex, in part, perhaps, we were able to be vigilant in opposing it—but not vigilant enough.
—Peter Friesen, from the Introduction
Author Biography
John (Peterson) is the author of four previous books of poetry including: The Nature of Mountains; News of the Day; dark hills and wild mountains and Two Races One Face Two Faces One Race with Tomás Gayton. John along, with James Downs, is the publisher and editor of Poetic Matrix Press. As the publisher of Poetic Matrix Press, a literary small press, they have published more than 60 books of poetry and prose from writers across the country and around the world. In 2017 John, James and Joe Milosch edited and published Poetic Matrix Press Authors' 20th Anniversary Anthology 1997-2017 with cover art by Molly Weller.
« Back to Press Titles