I did not fear obscurity in my poetry because I had come to believe that the way to the universal was by means of the most intensely personal. I believed that what we truly share with others lies in the deepest, most personal, even physiological core–and not in the outer world of speech that is used for grooming and transactions. Further, as Clyfford Still, a contemporary of Jackson Pollock and a heroic Abstract Expressionist, said, "Demands for communication are presumptuous and irrelevant." Jazz and bop had convinced me that poets might also communicate by music, by sound, like Thelonious Monk, Charlie Parker, Miles Davis. (from Scratching the Beat Surface,
by Michael McClure
The Dreams We Share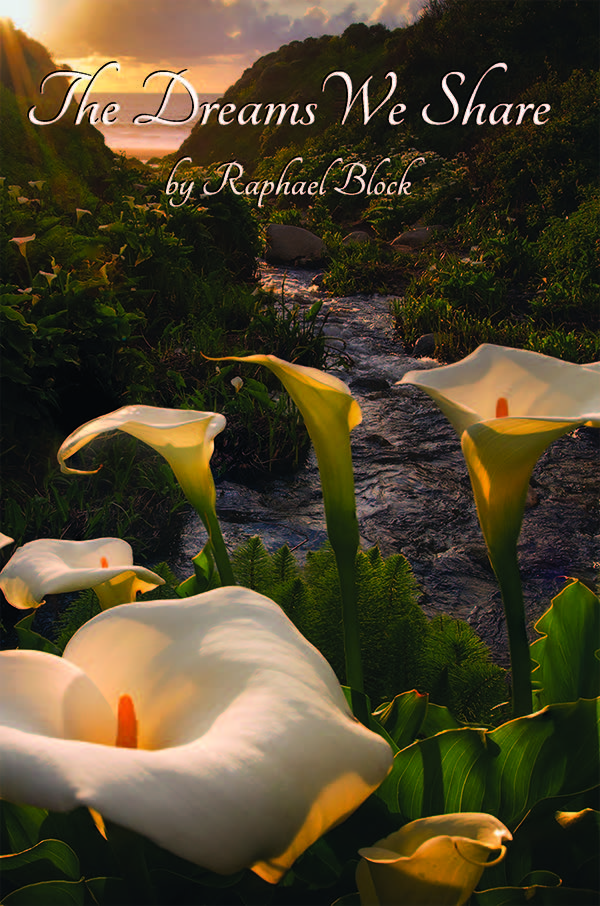 Cover design by Judyth Greenburgh
Cover art by Gerald Macua
Poems by Raphael Block
ISBN 978-1-63649-694-8
111 pages $17.50
Books by Raphael Block:
Songs from a Small Universe
Spangling Darkness
Strings of Shining Silence
At This Table
Spangling Darkness and Strings of Shining Silence are available as free audio downloads at Raphael Block's website
The Preface
We can create a new civilization with our dreams, thoughts, feelings, and actions–and many of us are already doing so. Our current civilization is beyond saving because it is totally unsustainable.
Gaia needs us to listen, to learn from our elders who lived, and even flourished, for billions or hundreds of millions of years through her ever-changing ways and ages. The rocks, trees, insects, and the millions of species that call Earth home have wisdom of tremendous value to share with us if we are open to experiencing and witnessing them. Professor Robin Wall Kimmerer, a member of the Citizen Potawatomi Nation, describes, for example, lessons that we could draw from the many different mosses.
Once we consider the elements that make up our world, know them for the great beings they are–beginning with water, the basis of all life–we can align ourselves with natural laws, or core principles. These natural laws affirm the necessity for giving and receiving, and the value of meeting each being's unique needs.
Utopian! one might exclaim. Yet every day it becomes clearer that our very survival depends on our alignment with these fundamental laws. The Covid pandemic has revealed our utter dependency on each other, has shown us what is essential and non-essential work, as well as the fragility of our institutions based on man-made laws that have little relationship to the miraculous beings that shape every moment of our days, starting, yes, with the molecules we breathe, expressed as a breeze of flowing waves through branches, bushes, grasses, birdsong, and the dreams we share.
Peace Presence
The frost brings out
the whorls and swirls that flow
like fingerprints
through these redwood deck planks.
*
While Thich Nhat Hahn slowed
the whole anti-war march
walking with mindful presence,
thousands of fraught, pained people
came to their senses.
*
When do I make time
to look at the shelf
instead of the books?
To touch the grain
and let the pine feel me?

Raphael is a poets of the natural world, he studies it, he walks it, he speaks it and sings it and, oh yes, he writes it. Here is the writing, but rest assured he is the same here in these glyphs and symbols as he is face to face, as he is when he chants it, as he is when you talk on the phone or when my son Devon and I met him on his shaded redwood deck.
This is our fourth book together and that in-itself is an honor. Each book does what Alan Watts shows in one of his talks on Zen. Zen has no philosophy, it just points to the thing itself, satori - you can only have it. Through parables and poetry, a way is pointed, then you must have it. Raphael does this, his poetry is a pointing "the whorls and swirls that flow". Now it is up to us to dare to find out if his pointing is ours. – John Peterson, Publisher
Calla Lily
Each day the cup grows larger,
its lip curls farther, a miracle
resting on its tall stem and
broad leaves, its delicate stamen
a yellow glow through
the translucent skin.
Although its core is not fully visible,
we know its color and scent–
its story, our story, the same.

---
All Poetic Matrix Press titles are available on our website, www.poeticmatrix.com using PayPal. Our titles are also available on Amazon and many other online book sales sites.
Poetic Matrix Press maintains an ongoing ad on Poetry Flash, www.poetryflash.com. We are currently running:
Homeplate was the Heart and Other Stories
by Joseph D Milosch
This book is a collection of flash fiction and explores themes about the lifelong struggle American immigrants endure to gain citizenship -- not the scholastic citizenship of a written exam, but the everyday test their community gives them. I based these stories on my memories of my Irish and Polish grandparents and great uncles.
Joe Milosch graduated from San Diego State University. His poetry has appeared in various magazines (name some). He has multiple nominations for the Pushcart and received the Hackney Award for Literature. His previous books are: The Lost Pilgrimage Poems and Landscape of a Woman and a Hummingbird.
Anniversary
In the shed, George Kell, the radio announcer, said Frank Lary was pitching for the Tigers. My grandfather rubbed sawdust off his shirt and reached for a Goebel's beer. Wood shavings stuck to the hair on his arm, and his palm polished the lip of a long neck bottle. Nearby, grandmother sat on the porch with her hair in rollers and a spot of gravy on her apron. She shelled peas. Occasionally, she sifted them through her fingers. She judged the smoothness of their skin, the hardness of their core, and the flavor of the soup pea by pea.
(Please read some more )
I hope this finds everyone healthy and happy. This is the time of year for this or so it is said. I DO BELIEVE I WILL GET TO SPEND TIME WITH MY GRANDSON THIS YEAR. That will make me happy. I do hope you all will be happy and spend time with those that are important to you.
Love to you all and stay warm,
winter is upon us!
John