Event coming up
Poetry and Art
Friday September 21
6:30 pm to 10:00 pm
San Diego Art Institute
Balboa Park
San Diego, CA
Hosted by Michael Klam
Poetic Matrix Press So Many Voices 20th Anniversary Authors Anthology
Joe Milosch
Tomas Gayton
Brandon Cesmat
John Peterson
Shadab Hashmi
Special Guest Valery Ruiz
Recent Titles
Edited by John Peterson, James Downs & Joe Milosch, Cover Art by Molly Weller
Poetic Matrix Press was founded in the high mountain beauty of Yosemite in 1997 and has grown into a press that is producing full-length books as fine as any that can be seen on any bookshelf, in any bookstore or at any library. We are celebrating our 20 year Anniversary, 1997-2017, with an Anthology of our 45 authors and 60 books.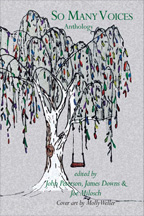 Available at SPD
by J. P. Linstroth
Lush and passionate, politically and ethically astute, J.P Linstroth's poems awaken our sensibilities on every page, letting us see the human beauty central to our most intensely lived experiences. This is poetry that authentically holds experience still, at the apex of its own fragile beginnings.
- Dr. Ann Townsend, Professor, Denison University
Out now - Available at SPD soon
by Carol Smallwood
(Carol Smallwood's) greatest strengths lie in her own original content, and in that respect, A Matter of Selection soars not only as a follow-up to her past collections, but also as an independent entry into the modern poetic landscape. Be it the personal touches inside the profound "The Universe," the sensory allusions of "A Chemo Visit," the domestic snapshots shaping "The Sewing Box," or the startling social commentary beneath the short and simple "Examples," Smallwood ensures that just about every piece is surprising, unique, and resonant. As such, A Matter of Selection is a tour-de-force illustration of the potentials of poetry.
- Jordan Blum, founder, editor-in-chief, The Bookends Review
Rayn Roberts continues writing and has published in anthologies and literary journals across the nation. He is performing on Radio KSER 90.7 Everett, WA. regularly and been a featured poet at many venues in Seattle. He hosts a long established and popular reading at Green Lake Public Library in Seattle for PoetsWest featuring some of the best poets in the state of Washington, Oregon and California including WA State Poet Laureate, Claudia Castro Luna, Gaylloyd Sisson, Bill Carty, Kilam Tel Aviv, Tara Hardy, Sierra Golden, Chad Sokolovsky, Lola Peters, Art Gomez, Jimmy Jazz, Michael Klam, Pongo for at risk teens and others. As of 2018, he is continuing to promote and instill an appreciation for Poetry and English Literature. He has a new book coming out in 2018 and will tour Sweden, England, Ireland and Holland with, Chris Vannoy, the US National Beat Poet Laureate after they attend the National Beat Poetry gathering in New Hartford, CT. If you want to make the world a better place through poetry, support PONGO: http://www.pongoteenwriting.org/.
Raphael Block Reports
I'm busy preparing my next book, At This Table. It bears the same name as the 5 minute documentary on my site, also featured on the National Geographic Short Film Showcase at this link . I'm very grateful that over 30,000 people have viewed and listened to it.
With very best wishes, Raphael
A Sight Divine
A sea of sunny faces greets me—
they gently wave, familiar friends
rise once again for the pleasure
of murmuring, winged creatures—
each petal a ray like you or me,
each golden pollen center a heart
like mine or yours, arrayed
in unpretentious glory
unafraid, open to―breeze, rain,
the mower's blade. They'll spring
again to heap their blessings
on another timeless day.
Recited in the documentary
A New Book by Peter and Donna Thomas
Anywhere That Is Wild
John Muir's First Walk to Yosemite
Edited by Peter and Donna Thomas
Cut-paper illustrations by Emily Brown
Publisher: Yosemite Conservancy | yosemiteconservancy.org
Publication date: March 27, 2018
68 pages | Print ISBN: 978-1-930238-83-1
Price: $12.99 trade hardcover
Material for this book was included in Muir Ramble Route-Walking from San Francisco to Yosemite in the Footsteps of John Muir by Peter and Donna Thomas, published by Poetic Matrix Press in 2010.
From Shadab Hashmi
A poem of mine (from Kohl and Chalk) was added to the language arts curriculum last year:
https://advancingjustice-la.org/what-we-do/leadership-development/untold-civil-rights-stories/lesson-plan-aapi-women-voices-untold
My work is being used as part of the humanities and creative writing curricula in several colleges and universities and has been featured in several international anthologies, most recently in "IN the Shape of a Human Body I am Visiting the Earth" from McSweeny, edited by Ilya Kaminsky.
I have presented from Baker of Tarifa in Granada, Spain, just a few miles away from the Alhambra; I have also presented at SOAS, York University, Agnes Scott College, Koc University in Istanbul; LUMS in Lahore, Lahore Literature Festival; Chicago University Pakistan Club, and Poets House among many other places.
Best,
Shadab
Patricia Nelson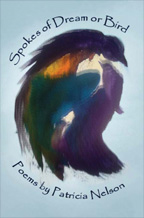 I thought you might be interested in a couple of developments. I was able to get a review of Spokes of Dream and Bird. Also, an interview with Marin Poets Live:
https://www.youtube.com/watch?v=IH8kfnilwfs&list=PLEwX_44-X2vAlOKvz_BhUsUo3No7k454&t=0s&index=45
(The interview was conducted before Spokes of Dream and Bird was published, so Poetic Matrix Press is not mentioned, but Neshama has the book in the Fairfax Library, and it's also available in the Marin County library system through John Hart's efforts in creating an Activist archive.) Thanks again for publishing the book.
Coming Titles
Law and Economic Order
A Theory of Requisite Economy
By Peter Gibson Friesen
Following on his 2016 volume On Freedom: Organizational Science Examined Philosophically, PM Library, Peter applies this examination of Freedom to the fields of Law and Economics. Due out later in 2018.
In Recent News
Burning Man
With the death of Larry Havey the founders of Burning Man, this desert event again has been in the news ( Burning Man August 26 - September 03, 2018 Black Rock City, NV). In Hassan El-Tayyab's memoir, Composing Desert Sunrise: Overcoming Writer's Block at Burning Man (Poetic Matrix Press), this desert event is the focal point that sees this musician begin to write songs again.
Hassan, besides being an incredible musician, song writer, and author is also a peace organizer with Chicago Area Peace Action He will be going to Hiroshima and Nagasaki in August to speak of World Peace at their annual celebration of Peace. Composing Temple Sunrise will be available from poeticmatrix@icloud.com for the special price of $10.00 plus shipping until the end of Burning Man.
Lyn Lifshin
As we head into another hurricane season, past hurricanes still linger in Puerto Rico, Texas, New Orleans, and Sandy in New Jersey. Headlines are gone but the effects linger. What of the people affected? Lyn Lifshin's book Katrina, written at the five year anniversary of that hurricane is a telling, by a fine poet, of the people's lives during that event. In her fine poet's voice she tells their stories, stories we rarely hear. We had the privilege of publishing that book. It is still available.

Korea
Korea of course is in the news these days. Starting with Yearn Choi's memoir, Song of Myself:
A Korean-American Life we have published four books from Korean-American and Korean authors. After Song of Myself Yearn then brought us Mun Duk-su's important book The Postman, Mun's long poem with commentaries based on his experience in the Korean War. That War enters deeply the current conflict with North Korea. Our press did this book in hard cover and it was part of Mun Duk-su's presentation as he was nominated for the Noble Prize in Literature in 2010. A great honor for him and also for Poetic Matrix Press. Two more books came though Yearn Choi: Triumph at Last: A Korean-American Life, a memoir by Steven Soo Hyun Kim, and I am Homeland, edited by Dr. Yearn Hong Choi this anthology features 12 senior Korean-American poets and 120 poems. It has been our pleasure to work with Dr. Choi on all of these projects and it is our hope that these works will in some small way assist in bringing peace to all Koreans.

We at the Poetic Matrix Press would love to hear from you. Leave us a note at poeticmatrix@icloud.com. What do you like? What would you like to see? We hope our Newsletter is informative about what our press is doing. And thank you for reading!