Poetic Matrix Spring 2020 Newsletter
We have a lot going on here at the Poetic Matrix Press. New titles, significant changes to titles and distribution. I invite you to read fully and do let me know if you have comments, suggestions, ideas and critique.
---
New Titles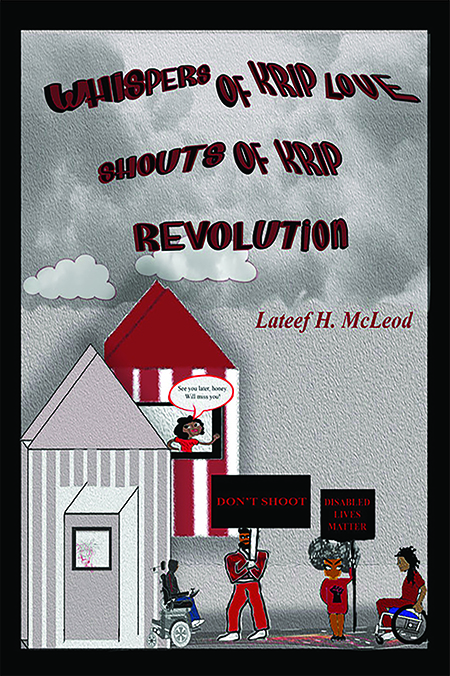 Poetry by Lateef H. McLeod
$18.00, ISBN: 978-1-7337025-6-0
Lateef McLeod writes some of most daring poetry I have seen. This is poetry that is finely crafted and, oh yes, clearly has something to say. The best poets, to be sure, have something to say, they are artist and philosophers.
Langston Hughes Let America be America Again
O, let America be America again—
The land that never has been yet—
And yet must be—the land where every man is free.
The land that's mine—the poor man's, Indian's, Negro's, ME—
Now Lateef has been added to Langston Hughes' list of "the land where every man is free." He proclaims it all over this book.
- John Peterson, Publisher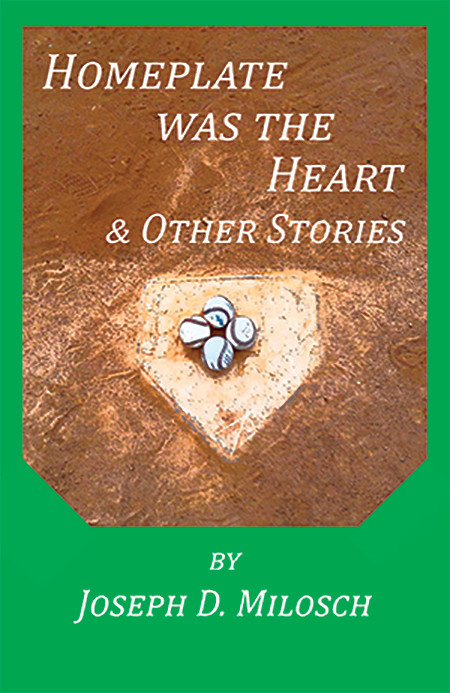 by Joseph D. Milosch
$17.00, ISBN: 978-1-7337025-5-3
These stories are like the stitching that holds the cover on a baseball. What happens at home sets up what happens out in the field. In Home Plate Was the Heart, batting practice trains characters for daily life with no off-season. How does the stitching affect the pitch? Will it hold? Even if you don't love the game, but blood binds you to someone who does, this book is for you.
- Brandon Cesmat author of Driven into the Shade, and When Pigs Fall & Other Stories.
---
Coming Soon
At This Table
by Raphael Block
---
Recent Titles
OUT OF THE UNDERWORLD by Patricia Nelson, 88 pages, $17.00, poetry, ISBN: 978-1-7337025-4-6
Conjugal by Alicia Vandevorst, 92 pages, $17.00, poetry, ISBN: 978-1-7337025-2-2
Chronicles in Passing by Carol Smallwood, 86 pages, $17.00, poetry, ISBN: 978-1-7337025-3-6
Law and Economic Order: A Theory of Requisite Economy by Peter Gibson Friesen, PM Library, 280 pages, $22.00, non-fiction, ISBN: 978-1-7337025-1-5
In the Next Life by Joan Baranow, Poetic Matrix Press, 87 pages, $17.00, poetry, ISBN: 978-1-7337025-0-8
Amtrak Starbucks Jazz on the Streets of Richmond by John (Peterson), Kvasir Books, 81 pages, $18.00, poetry, ISBN: 978-0-9981469-9-7
---
Recent Press Changes
Recently a number of our titles have gone out of print as paperback offerings. This is inevitable in the publishing world. It has been our privilege to publish these and all of the titles we have published. We are proud to have supported these and all of our authors. We will, however, continue to support these titles in two ways. First, we have many of these books in our backstock and as long as we have them, they will be available. Some we will show on Facebook, LinkedIn and on our website and in promotional mailings. They will not however be available on Amazon or other on-line sources or via distributors. You may inquire as to how many we have via our email address.
Second, a few of our titles are available as Kindle ebooks currently, that will remain. Now all of these out of print books and indeed, all of our titles, will be available as PDF ebooks exclusively on the Poetic Matrix Press website. Go to our website for all the details and modest prices for the PDF ebooks including front and back cover images and text as it was designed for printing. We have an order form on our website and payment through PayPal. For over 20 years we have produced more than 70 books and are continuing to produce quality books by significant authors.
Along with these changes we have set-up Poetic Matrix Distributor to more easily engage with bookstores and others who might carry our titles. Our address, email and phone number are the same so if you know of a bookstore who would be interested in our titles please contact us directly. We are no longer affiliated with Small Press Distribution and so this is now our best source for our book distribution. We still have distribution with Ingram Books, Baker and Taylor and other distributors. If your bookstore needs books for a reading have them contact us directly. We will be giving bookstores a better discount then from most distributors. This will help their sales margin.
Poetic Matrix Distributor will be the primary distributor for books sold on Amazon. People can order from Amazon to buy books retail. We will then ship the books. We are completing this set up.
---
Reviews
In The Next Life by Joan Baranow
87 pages, $17.00
ISBN: 978-1-7337025-0-8
In The Next Life by Joan Baranow from Poetic Matrix Press (2019) is the work of a mature and sure poetic voice developed over years of reading and introspection. At times, as in "Light Climber," Baranow writes a subtle counterpoint to a familiar poem (in this case "Ars Poetica" by MacLeish) exposing the benefit of a lifetime of reading. At other times, Baranow is creating an unflinching record of the small moments, the now, now, and now, that make up a life passing by at what seems to be an ever- increasing speed. There is a beauty in each of these captured moments that reminds me of the small smooth stones that I skipped across the surface of lakes as a child. I will carry many on these poems, as I used to carry those stones, believing that if I launch them at a proper angle into this darkening world, they will defy gravity and the other forces pulling me down.
- James A. Perkins
Realization Point by Chris Hoffman
113 pages, price $17.00
ISBN 978-0-9827343-9-1
I am happy to report that I had a new poem appear in the recent Summer Issue of Sufi Journal and have another accepted for publication next June in Appalachia. I am quite happy about both of these. In case you haven't seen it, Sufi Journal is a gorgeous magazine, glossy, with high production values that is sold in many bookstores as well as by subscription. Appalachia is probably the oldest magazine publishing nature poetry and it is very selective - perhaps a dozen poems a year. Mary Oliver was published there a lot. I hope both of these will help book sales. I continue to submit poems to other publications.
Meanwhile, the publisher of my ecopsychology book (The Hoop and the Tree) has recently been bought by a new publisher and I am working to interest the new publisher in re-issuing my book with an added chapter. Also, you saw my recent email about a web interview about this book. The interview garnered a lot of positive comments and some book sales. I'm hoping this will spill over into some poetry sales as well.
- Chris Hoffman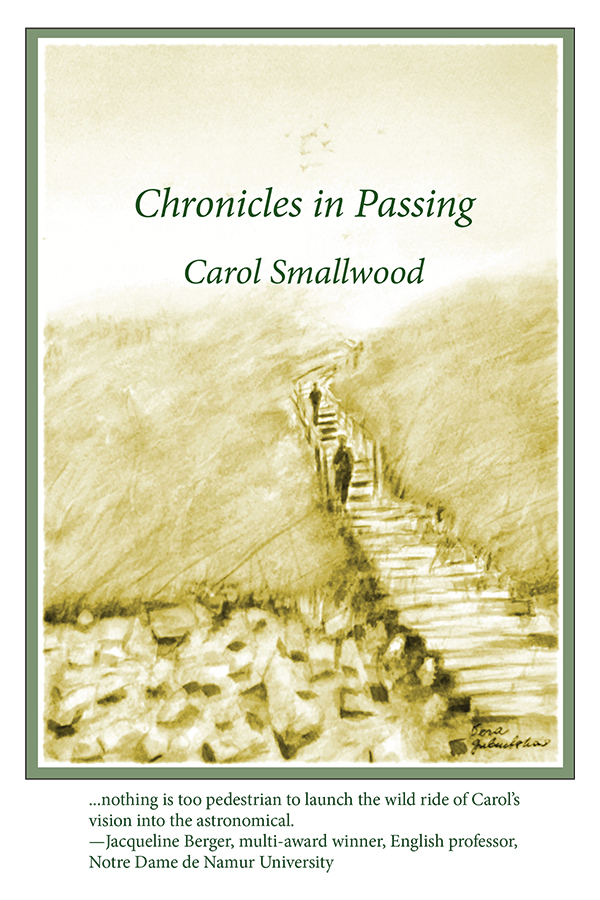 Chronicles in Passing by Carol Smallwood
Paperback: 102 pages
Poetic Matrix Press, 2019
ISBN-10: 1733702539
"Our world's one mostly we don't see," Carol Smallwood reminds us in this excellent collection that considers a diverse array of large and small wonders about us, reminding us to witness and chronicle what we see in the world, as well as "in our mind's eye during solitude."
- Robert Fanning, Professor, Central Michigan University: author of Severance; Our Sudden Museum; American Prophet; The Seed Thieves
---
What Is Wu Wei?
One of Taoism's most important concepts is wu wei, which is sometimes translated as 'non-doing' or 'non-action.' A better way to think of it, however, is as a paradoxical 'Action of non-action.' Wu wei refers to the cultivation of a state of being in which our actions are quite effortlessly in alignment with the ebb and flow of the elemental cycles of the natural world. It is a kind of "going with the flow" that is characterized by great ease and awake-ness, in which – without even trying – we're able to respond perfectly to whatever situations arise.
Wu Wei: The Action of NonAction by Elizabeth Reninger