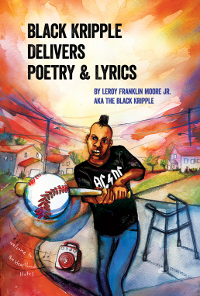 The Black Kripple Delivers Poetry & Lyrics
by Leroy Franklin Moore, Jr.
147 pages, price $17.25
ISBN 978-0-9860600-8-3
The Book
Black Kripple Delivers Poetry & Lyrics is straight up an activist/love book of original poems and song lyrics that have been written and collected for almost two decades. Many poems in this book were first published in 1999 in my chapbook by Poor Magazine's Poor Press. This book contains poetry and lyrics of songs. Most of the poems and lyrics touch on issues that Black disabled people deal with but only get a little media attention. In this book you will find true stories of discrimination like cases of police brutality, to love songs for the Black disabled community and my family; poem songs for Black disabled people in history like Curtis Mayfield, Ray Charles, Rev. Cecil Ivory, Johnnie Mae Dunson, Barbara Jordan, Harriet Tubman and many more. This book also talks back to the Black community, academic scholars and the media on why they do what they do and at the same time tries to uplift the work of Black disabled writers, musicians and others.
– Leroy Moore, from his Author Notes
The Author
Leroy F. Moore, Jr. is a Black writer, poet, hip-hop\music lover, community activist and feminist with a physical disability. He has been sharing his perspective on identity, race & disability for the last thirteen plus years. His work on race and disability got deeper in London, England where he discovered a Black Disabled Movement which led to the creation of his lecture series, "On the Outskirts: Race & Disability." Leroy F. Moore, Jr. is a consultant on Race & Disability, co/founder & community relations director of Sins Invalid, go to www.sininvalid.org to learn more. He is also the creator of Krip-Hop Nation (Hip-Hop artists with disabilities and other disabled musicians from around the world) and produced Krip-Hop Mixtape Series. With Binki Woi of Germany and Lady MJ of the UK he started what is now known as Mcees With Disabilities, an international movement.
Leroy is a black disabled artist/activist who is committed to assisting other disabled persons, whether black or not, to get a better shake in our contemporary society. He is committed to Hip Hop as a means of advancing this; lyrics and poetry are his showcase. This is a man on a mission.
"In the tradition of History's word warriors, Leroy Moore pens full frontal confrontations that blast away the last nasty vestiges of Faith-based America's biases against the poor, the disarranged, and the different."
– Wanda Coleman, Los Angeles. Known as "the L.A. Blueswoman," author of many powerful books of poetry and pros.
« Back to Press Titles