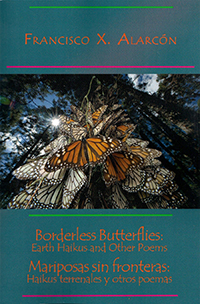 Author Bio
Francisco X. Alarcón, award-winning Chicano poet and educator, was born in Los Angeles, grew up in Guadalajara, Mexico, and now lives in Davis, where he teaches at the University of California. He is the author of twelve volumes of poetry, including Canto hondo / Deep Song (University of Arizona Press, 2015), Ce • Uno • One: Poems for the New Sun (Swan Scythe Press, 2010), From the Other Side of Night / Del otro lado de la noche: New and Selected Poems (University of Arizona Press, 2002), Sonnets to Madness and Other Misfortunes (Creative Arts Book Company, 2001), No Golden Gate for Us (Pennywhistle Press, 1993), Snake Poems: An Aztec Invocation (Chronicle Books, 1992), Of Dark Love (Moving Parts Press, 1991 and 2001), and Body in Flames (Chronicle Books, 1990).
He has received numerous literary awards and prizes for his works, including the American Book Award, the Pen Oakland Josephine Miles Award, the Chicano Literary Prize, the Fred Cody Lifetime Achievement Award, the Jane Adams Honor Book Award, and several Pura Belpré Honor Book Awards by the American Library Association.
About the Book
The Book, from the Preface
This is a work of rare beauty and intelligence. Through tierra, fuego, agua, and aire, Alarcón takes us on a journey into our own psyche and through the concerns of our world – immigration and identity, the fragility and strength of our natural environment, the many faces of love, and the politics of a world in great need of illumination. Through everything he gives voice to our own unspoken feelings, and does so with delicate yet powerful language. His language is lean and brief; his poems puncture the skin and pierce the heart. These poems are a constant source of wisdom and grace.
In these pages Francisco recapitulates the last 50 years; the struggles of so many, the dreams and the actions of millions seeking to emerge from a world that has been compromised. The four poems, América, shout it out in four languages; English, Spanish, Irish and Dutch: from América
booming loud and bright:
"I'm your country too"
this Fourth of July

***

con estrueno y luz:
"yo soy tu nación también
este Cuatro de Julio"

***

glé os ard an liú:
'Is mise do thírse chomh maith'
an Ceathrú Lá d'Iúil

***

knallend luid en hel
"Ik ben ook jouw land"
op deze vierde juli

We are all here from many places and we are this América.
• • •
Poetry is beauty and truth. We are caught up in both and then, and together, there is love. Let us not be maudlin, it is love. The love of the earth, the love of the people, the love of this life, and it is for everyone, no one - no one - is left out. Francisco calls to us again and again in these pages and the monarch butterfly is his symbol, his lens to let us see. The monarch butterfly has a unique mission, it migrates across all borders in its quest for life; its future is in jeopardy, but it continues its journey and calls out to us with its beauty to wake up and see what we are doing, and help them in their on-going journey of life. It is like that for all of us Francisco assures us. We all have this mission to assist each other, to not turn our backs on those in need.
Living Targets
given away
by the dark tone
of our skin
the flapping
colorful birds
in our tongue
we are here
walking suspects
living targets
always free
as breathing air
in the loving arms
of each other
July 15, 2013
"Since the late 70's when I first met Francisco, he has been sculpting his Roots poetics and mapping his travels to literary, cultural and people's centers in the Américas. This is that travelogue. It is filled with the openness of spirit wings, of Chican@ Floricanto revolutionary poetics for social change and most of all, it is flourishing with incandescent love chants and calligrams that all can read, hold up to the sun, and bow to humanity. It is the Yolteotl, the divine heart, the Toltecs heralded as the core of the true artist of the people. I see this collection as the mind-path for our times. A groundbreaking text and rising inspiration fountain."
– Juan Felipe Herrera, California Poet Laureate
Review from El Tecolote by Nina Serrano »
« Back to Press Titles