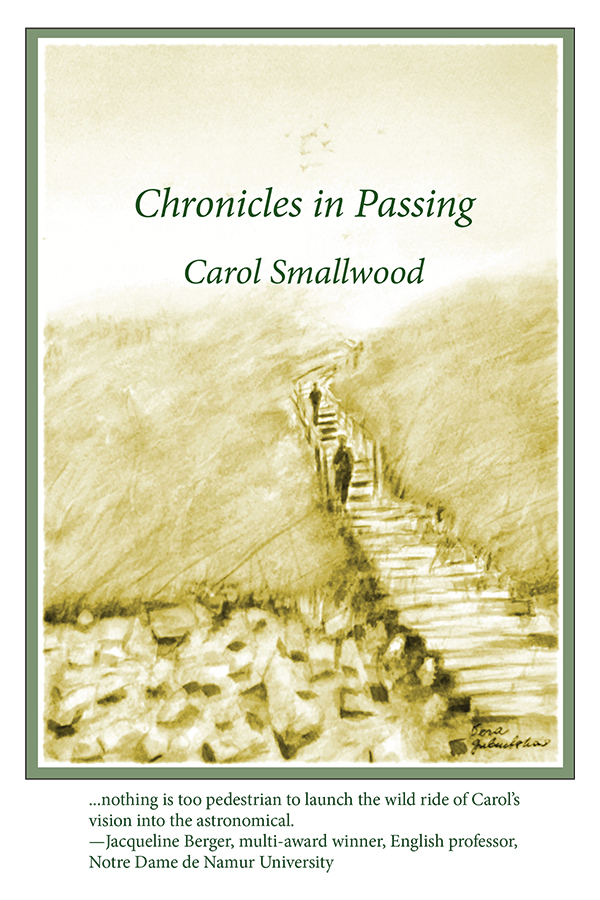 Chronicles in Passing
by Carol Smallwood
86 pages, $17.00, poetry
ISBN: 978-1-7337025-3-6
Description
The Book
Carol Smallwood is ahead of the curve, tapping into the treasure trove of history to create richly meaningful new works using potent traditional techniques. She is truly a poet of the future.
–Evan Mantyk, President, The Society of Classical Poets, Mount Hope, New York
In this volume, Carol Smallwood captures the glory and grind of daily life with ample references to classical characters, finding in them ample metaphors that cast light on the human condition and the common questions we ask about the simplest things—such as, about the night sky—notably "Why?"
–Mike Foldes, Founder/Executive Editor, Ragazine
Carol Smallwood may become Everyman's poet—make that Everywoman's! In her "Visits" she makes us see beauty in mundane. No heroics or tricks. Merely whispers or gentle nudges, a poet's poet.
–Carolyn Howard-Johnson, The New Book Review Editor; multi award-winning writer
The Author
Carol Smallwood has written or edited over five dozen books of poetry, creative nonfiction, nonfiction, and anthology. Women on Poetry: Tips on Writing, Revising, Publishing and Teaching is on Poets & Writers' List of Best Books for Writers. Other books include Bringing the Arts into the Library (American Library Association) and Writing After Retirement (Rowman & Littlefield). Her most recent collections are: Visits and Other Passages (Finishing Line Press, 2019); Patterns: Moments in Time (Word Poetry, 2019).
« Back to Press Titles