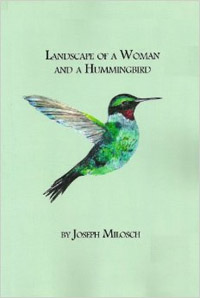 Landscape of a Woman and a Hummingbird
by Joseph Milosch
71 pages, price $16.25
ISBN 978-0-9860600-3-8
Author Bio
Joseph Milosch graduated in 1995 with his MFA from San Diego State University. He has published poetry and essays in various magazines, and has had multiple nominations for the Pushcart Award. His first book The Lost Pilgrimage Poems was published by Poetic Matrix Press.
He received an honorable mention for his poetry in The Chapel Jazz Poetry Contest in the spring of 1999.
He received an Excellence in Literature award from Mira Costa College.
His first chapbook, On the Wing, was published by Barnes and Noble as a regional publication, and his second chapbook, Father of Boards and Woodwinds, was published by the Inevitable Press for the Laguna Poets Series. He was a finalist in the Tennessee Middle State Chapbook contest in 1996 for his chapbook, If I Could Imagine. He won the 1997 Tennessee Middle State Chapbook contest with his chapbook Among Men. In 1999 The Laguna Poets Series published his fourth chapbook Now She Bends Away with Inevitable Press.
About the Book
Not unlike Orpheus, Joseph Milosch sings a song of earth, a song of work, in a lyric voice that will lure readers to the vivid narratives of a good man's life.
— Sandra Alcosser, Except by Nature and A Fish to Feed All Hunger
These merciless and irresistible poems fuse into a landscape of intimate close-ups, whether of buffalo bellowing their dominance in Yellowstone, the touch of the wife's hands covered with dough, or the gravestone of the poet's brother. For lovers of nature and of this harsh and amazing earthly life, this book is a feast of bracing, supple imagery that's the opposite of the anemic and academic. These poems live; they breathe; they show off the trophies of their scars.
—Oriana Ivy is a widely published poet and translator. Author of three prize-winning chapbooks
« Back to Press Titles