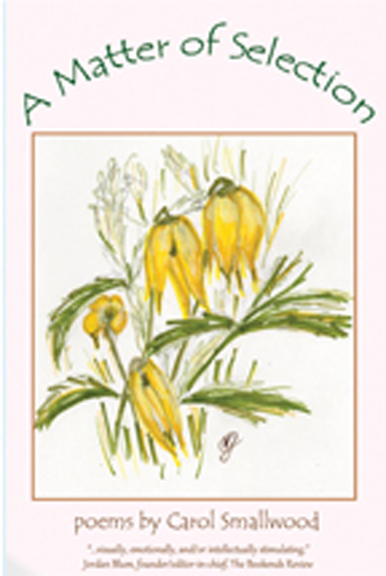 A Matter of Selection
Poems by Carol Smallwood
Poetic Matrix Press 2018
97 Pages, $17.00
ISBN: 978-0-9981469-8-0
Cover Art by Vera Gubnitskaia
The Book
(Carol Smallwood's) greatest strengths lie in her own original content, and in that respect, A Matter of Selection soars not only as a follow-up to her past collections, but also as an independent entry into the modern poetic landscape. Be it the personal touches inside the profound, "The Universe," the sensory allusions of "A Chemo Visit," the domestic snapshots shaping "The Sewing Box," or the startling social commentary beneath the short and simple "Examples," Smallwood ensures that just about every piece is surprising, unique, and resonant. As such, A Matter of Selection is a tour-de-force illustration of the potentials of poetry.
— Jordan Blum, founder, editor-in-chief, The Bookends Review
---
Carol Smallwood's poems harken back to evolution and she explores the complexities of the mind, at times with surrealism, and all her work is both modern and poetry of depth and excellence.
— Mary Barnet, founder & editor-in-chief, PoetryMagazine.com
---
Carol Smallwood's unabashed use of classical poetry forms for modern topics in her books makes her one of the boldest poets in poetry, even in literature, right now.
— Evan Mantyk, president, The Society of Classical Poets
---
Formal and free verse poems flow seamlessly together, integrated into collections that magnify the specifics of our world yet then pan out to connect the parts to the larger whole.
— Cristina Deptula, Synchronized Chaos Magazine
---
Carol Smallwood's latest volume of poetry, A Matter of Selection, brings into sharp focus her vivid interest in both the natural world and probing observations of the daily—the quotidian mysteries present in any given life when we take time to notice and reflect upon all that we interact with in the course of a day... ( Full Review )
— Michelle Everett Wilbert, Reviewer
Author
Carol Smallwood's over five dozen books includes Women on Poetry: Writing, Revising, Publishing and Teaching, noted on Poets & Writers Magazine list of Best Books for Writers. Recent anthologies include Writing After Retirement: Tips by Successful Retired Writers (Rowman & Littlefield, 2014); Bringing the Arts into the Library: An Outreach Handbook (American Library Association, 2014); Library Partnerships with Writers and Poets: Case Studies (McFarland, 2017). Carol has founded and supports humane societies. She's received multiple Pushcart Prize nominations.
Recent literary collections include: Water, Earth, Air, Fire, and Picket Fences (Lamar University Press, 2014); Divining the Prime Meridian (WordTech Editions, 2015); Interweavings: Creative Nonfiction (Shanti Arts, 2017); In Hubble's Shadow (Shanti Arts, 2017); Prisms, Particles, and Refractions (Finishing Line Press, 2017). Prisms, Particles, and Refractions was nominated for the Society of Midland Authors Award in Poetry.
Reviews
http://www.midwestbookreview.com/rbw/nov_19.htm#evanmantyk
https://thenewbookreview.blogspot.com/2019/10/uk-poet-james-sale-reviews-american.html
http://www.compulsivereader.com/2018/07/16/a-review-of-a-matter-of-selection-by-carol-smallwood/
« Back to Press Titles