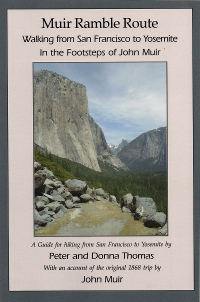 Muir Ramble Route
Walking from San Francisco to Yosemite in the Footsteps of John Muir
A Guide for hiking from San Francisco to Yosemite
With an account of the original 1868 trip by John Muir
by Peter and Donna Thomas
Published by Poetic Matrix Press
187 pages, color cover, photos and drawings
Retail price $19.50
ISBN: 978-0-9724276-6-8
Available at Amazon.com
Description
The Book
This book is really three books in one. It is a guidebook for a walking/cycling route across California that follows John Muir's footsteps from San Francisco to Yosemite via the Pacheco Pass. It is an adventure book, telling the story of Peter and Donna Thomas' 2006 ramble across California to discover that route. And finally it is a history book, presenting in its entirety and for the first time, the complete story of John Muir's first trip to Yosemite. That trip was taken in 1868, the year before Muir's "First Summer in the Sierra," and it has never been published before, existing in obscurity, in Muir's various writings, until it was reconstructed by Peter and Donna in preparation for their walk to Yosemite in his footsteps.
What others have said:
"Here, for the first time and meticulously researched by Donna and Peter Thomas, is the story of Muir's personal journey from San Francisco through the foothills into Yosemite National Park, as well as the route undertaken by the celebrated Thomases who followed in Muir's footsteps. Enjoy your own path-filled wanderings on your way to Yosemite and bask in the glory of God's Wildness."
— Bonnie J. Gisel, author, Nature's Beloved Son: Rediscovering John Muir's Botanical Legacy
"John Muir was one of the greatest walkers of modern times, and through walking he came to know nature's beauty and diversity. Here, collated conveniently for the first time, is his first encounter with a California still unspoiled by industrial farming, freeways, and oil wells. It should make any reader's feet itch with excitement."
— Donald Worster, Hall Distinguished Professor of American History, University of Kansas
From Muir Ramble Route:
from page 13
The Story of John Muir's 1868 Trip
from San Francisco to Yosemite
[Dear Friends,]
Fate and flowers carried me to California, and I have reveled and luxuriated amid its mountains and plants and bright sky. I followed the Diablo foothills along the San José Valley to Gilroy, thence over the Diablo Mountains to the valley of San Joaquin by the Pacheco Pass, thence down the valley until about opposite the mouth of the Merced River, thence across the San Joaquin, and up into the Sierra Nevada, to the mammoth trees of Mariposa and the glorious Yo Semite valley, thence down the Merced to this place. No matter what direction I traveled, I waded in flowers by day and slept with them by night. Hundreds of flowery gems, of most surpassing loveliness, touched my feet and buried them out of sight at every step. I was very happy, the larks and insects sang in streams of unmeasured joy, a sky of plants beneath me, and a sky of light above me, all kept by their Maker in perfect beauty and pure as heaven.
from pages 31 & 32
Yosemite
There is a kind of hotel in the valley, but it is incomparably better to choose your own camp among the rocks and waterfalls. And of course we shunned the hotel in the valley, seldom indulging even in crackers, both being too costly. After spending eight or ten days in visiting the falls and the high points of view around the walls, making sketches, collecting flowers and ferns, etc., we decided to make the return trip by the Mariposa trail to see the celebrated grove of Giant Sequoias, by way of Wawona, then owned by Galen Clark, the Yosemite pioneer.55
The night before the start was made on the return trip, we camped near the Bridal Veil Meadows, where, as we lay eating our suppers by the light of the campfire, we were visited by a bear. We heard him approaching by the heavy crackling of twigs. Chilwell, in alarm, after listening a while, said, "I see it! I see it! It's a bear, a grizzly! Where is the gun? You take the gun and shoot him — you can shoot best." (I had shot him you remember.) But the gun had only a charge of birdshot in it; therefore, while the bear stood on the opposite side of the fire, at a distance of probably twenty-five or thirty feet, I hastily loaded in a lot of buckshot. The buckshot was too large to chamber and therefore it made a zigzag charge on top of the birdshot charge, the two charges occupying about half of the barrel. Thus armed, the gun held at rest, pointed at the bear, we sat hushed and motionless, according to instructions from the man who sold the gun, solemnly waiting and watching, as full of fear as the musket of shot. Finally, after sniffing and whining for his supper what seemed to us a long time, the young inexperienced beast walked off. We were much afraid of his returning to attack us. We did not then know that bears never attack sleeping campers, and dreading another visit, we kept awake, on guard, most of the night.
from page 45
Part Three:
Guidebook to the Muir Ramble Route
This chapter provides the information and directions for following the 305 mile Muir Ramble Route from San Francisco to Yosemite. The MRR is divided into seven sections. Each section contains both directions for through hiking and a recommended trip that can be completed over a long weekend. For easy reference the directions are designated by miles from San Francisco.
Each of the seven sections begins with a summary of the route. This is followed by a description of the Recommended Trip and alternate or side trips. Next is a list of specific things you will need or need to know, like maps and accommodations. Following that is trailhead access information. Finally, there are directions for following the route. We will maintain a website to post trail updates and further information about using the MRR. (www.muirrambleroute.com)
The Muir Ramble Route is varied and challenging and wonderful, an ideal urban hiking vacation for residents of the San Francisco Bay Area. Some sections of the trip are so rural that it is easy to imagine it is still 1868 and John Muir is walking right beside you. Other places are so urban that you might find yourself wishing you were back in 1868 on a little dirt road beside John Muir. The MRR is urban backpacking at its finest. Not only does it offer the opportunity to experience first hand the breathtaking changes found in California's landscape it is a sort of journey through the history of California with Muir as your guide.
« Back to Press Titles