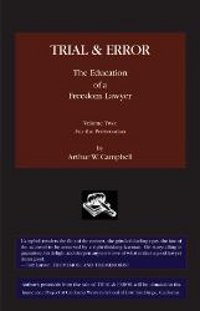 Trial & Error
The Education
of a
Freedom Lawyer
Volume Two:
For the Defense
by Arthur W. Campbell
127 pages, price $16.50
ISBN 978-0-9824276-7-5
Description
From the FOREWORD by Jerry Coughlan, Coughlan Semmer & Lipman, Former Assistant U.S. Attorney in Washington, D.C. and San Diego
"From what at first may seem ordinary misdemeanor cases, Campbell unearths latent drama. He writes about the colorful and diverse ways defendants, witnesses and jurors act in a courtroom. He discloses "testilying" witnesses and his struggles to skewer them on cross- examination. He exposes strong-willed judges, determined to rule their courts at all costs. Art reveals how seemingly routine cases hide surprises that jurors may see but lawyers sometimes miss."
Proceeds from the sale of Trial & Error will be donated to the Innocence Project at California Western School of Law San Diego, California.
Reviews
Law Student Reviews
Trial & Error: Volume One
"The book is amazing! It definitely was a page turner… The book showed the realities of being a lawyer and the effects it can have on your life, physically and emotionally... It was a great eye-opener into the complicated world of criminal law….I can't wait for a sequel!"
"TRIAL & ERROR has re-ignited my passion for law... Every story taught me something about criminal law. I would recommend this book to anyone considering or enrolled in law school. The book is an exceptional account of the battles won and lost in the world of freedom lawyering and the pursuit of justice."
From Trial & Error:
from HEADS UP, OFFICER
Pp.80+81
"Mr. Campbell, I won't need an opening statement. Just call your vice-squad witness."
I summoned the arresting officer, Welter Clapp. Wearing blue slacks and a grey sports coat, he super-flyed across the floor and dropped his lanky body in the witness chair.
Clapp related his experience as a law-enforcement officer in Washington, D. C.: two years as a plain-clothes cop, the last nine months assigned to vice. Yes, he recognized Ms. Murray in the courtroom sitting next to her attorney.
I asked him to disclose the date, time, and place of his encounter with defendant.
"It was on November 10th this year at 4 p.m. on 7th Street, Southeast."
Q. Would you describe the circumstances?
A. As I drove my Monte Carlo slowly down the street, I made eye-contact with Ms. Murray. She was standing on the curb and gestured with her chin for me to pull aside. When I did, she leaned in the open window of the passenger door.
Q. And what, if anything, did she do next?
A. She exposed a generous amount of cleavage, smiled broadly, and asked, "Hey, sport, you up for a head job?"
Q. Based on your experience in vice, what did "head job" mean?
"Objection sustained!" roared Bachover before Cardot could jerk his head up from his notes. "Mr. Campbell, the court will recess for one hour. That will give you time to find authority for your last question."
Feeling walloped by a busted bag of bees, I dropped my hands and stared up at the judge.
"You heard me, Mr. Campbell," said the black-robed Doberman, quick to yank a meaning from the context of my stance. "Unless you find me some authority, I'll dismiss this case for failure to prove Ms. Murray's solicitation was for sexual purposes."
Pp.82+83
Freedom lawyer finally seized command, tamping my aggression with respect: "If it please the court, I have a third road that will lead to recognition of the term at hand. The government recalls its vice-squad officer to qualify him as an expert on the meaning of 'head job' in the District of Columbia."
Bachover showed surprise, then smiled as if confident he'd quickly stamp a dead-end on this avenue. "Very well. The court affords the government that opportunity."
Returning Welter Clapp to the witness chair, I repeated questions we'd rehearsed at recess. He answered every when, where, who, and what-context question I could think of to establish his awareness that there was a single meaning for "head job" in Washington, D.C.
When I paused to think of other ways to buttress this man's expertise, the judge snapped up the reins and cantered back along my road. He fired questions aimed to cripple the credentials of my cop. What happened next surprised us both.
Bachover scoffed, "Officer, have you heard those words used sexually in any place except the District of Columbia?
"Yes, indeed I have, your honor. When I was an M.P. with the Air Force, I must have heard that phrase two-thousand times. It meant the same thing in a dozen cities throughout southeast Asia and Pacific islands."
Consternation drew Bachover's lips into a horizontal slit. I leapt to my feet. "On the basis of this man's extensive knowledge, I move the court to recognize him as an expert on the meaning of the term 'head job'."
Bachover looked for help from Nathan Cardot. "Any cross-examination, counselor?" The student lawyer shook his head apologetically and returned to staring at his notes.
Nipsy Murray shifted and re-crossed her legs, looking mildly amused. Does she see the humor in this concert of hypocrisy: two alpha males sparring over where she'll spend the night?
"Your motion's granted, Mr. Campbell," sighed the judge.
« Back to Press Titles