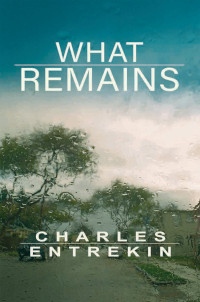 What Remains
by Charles Entrekin
130 pages, retail price $17.00
ISBN: 978-1-7337025-9-1
Nominated for the 2020 PEN America Book Award PEN/Voelcker Award for Poetry Collection
Description
This is what truly great writers – the great journalists, novelists, poets, playwrights – always do: They know their communities from the inside out, as full members, and they tell the truth about what they know. This collection of poems is a memoir about Alabama that transcends but does not neglect the public ugliness, the "tired old men who've made up their minds" and set against everything "young and swift." It is a family story filled with love, tenderness and forgiveness, that rises above the noise and into the mind and soul, evoking another landscape, both of feeling and place.
In What Remains, poet Charles Entrekin pares his life back to a profound moral core that balances between judgment and acceptance. If there is a Zen in Americana, this is it.
– Linda Watanabe McFerrin, Author of Navigating the Divide (Alan Squire Publishing, 2020) and The Hand of Buddha (Coffee House Press, 2000)
Author Biography
Charles Entrekin was born in 1941 in Birmingham, Alabama. He took his B.A. in English from Birmingham Southern College in 1964. He left Birmingham in 1965 and lived in various states (New York, Tennessee, Alabama, and Montana) while pursuing advanced degrees in philosophy and creative writing. Charles Entrekin holds an MFA in Creative Writing and founded the Creative Writing department at John F. Kennedy University and the Berkeley Poets Workshop & Press. Currently he is editor of the e-zine Sisyphus, a magazine of literature, philosophy and culture, and managing editor of Hip Pocket Press. Charles is the author of six previous books of poetry: The Art of Healing, with Gail Entrekin, (Poetic Matrix Press, 2016); Listening: New & Selected Work, (Poetic Matrix Press, 2010); This Hour, (BPW&P, 1990); Casting for the Cutthroat & Other Poems, (BPW&P, 1986); Casting for the Cutthroat, (Thunder City Press, 1978); All Pieces of a Legacy, (BPW&P, 1975). Charles' novel, Red Mountain: Birmingham, Alabama, 1965, was published in May, 2008, by El Leon Literary Arts.
« Back to Press Titles