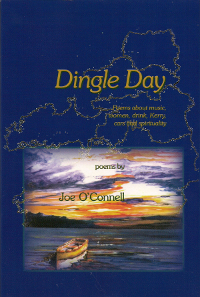 Dingle Day
poems by Irish poet Joe O'Connell
Published by Poetic Matrix Press
91 pages
ISBN 978-0-9824276-2-0
Description
The Book
In Dingle Day poet Joe O'Connell flies with the best of the Irish literary tradition; reverence for the Irish countryside; for the Irish people; taking on big themes — life and the nature of living. He lets his language go, invents words, delights at time in the pure sound of words, in the pure sound of sound. He is not afraid to break the norms hence the sub title, "Poems about music, women, drink, Kerry, cars and spirituality." All of the time he celebrates, over and over he celebrates, but never leaves his art: "I suppose art creates something new/Itself nonetheless part of reality."
Joe O'Connell
Joe O'Connell holds a Ph.D. in biochemistry and is a Senior Lecturer in the Department of Medicine at University College Cork, Ireland. Editor of RT-PCR Protocols (2002), he has contributed numerous articles and reviews to scientific journals. O'Connell was awarded a Centennial Prize for Academic Publishing in Medical and Health Sciences by the National University of Ireland in 2009.
A native of Portmagee, County Kerry, O'Connell resides with his wife and son in Cork City. Dingle Day is his first published collection of poetry.
From Dingle Day:
What is art?
The human genius of the car
I now follow in the vain folly of the pursuit
Which attempts to capture reality
And put it in a box of sound and smell,
Expecting in a few scribbled lines
To plumb reality's depths and tell
In what consists the source of the well.

Others box reality into richly daubed square frames,
Chisel it out of wood, metal, stone,
Knit it in rich fleecy colours,
Dance it with wild but graceful abandon,
In time to those who can paint it with rhythm
And floridly state it with flurries of eloquent notes.
Some attempt to construct it mammothly, to pierce the sky,
Others put it, spontaneous, into stilted spoken words on stage.

I suppose art creates something new
Itself nonetheless part of reality.

The car to some is nothing but
Rounded resistance to the outside world,
A solid but soft wheel for fingers and palms to clutch,
Comfortable cushioning for bum and back,
Hard rubber spongy resistance under foot,
Windows through which to view the road,
The land as it fleets noiselessly by,
The scenery,
Comfortable seating for passengers,
A trunk to stow away the necessities of the trip,
A plastic cap to the orifice through which
The odourous fuel is pumped,
Mysteriously guzzled to magically impel
This vehicle, this possession, this statement,
A stylish, handsome adornment,
Often an obsession,
Sleekly moulded, polished chariot,
A fashionable functional accessory,
Or functional fashion accessory?
The outward, superficial aesthetic of the car,
Which hides within, an array of subtle, exquisite,
Powerful machinations,
A unified collection of clever ideas,
Which outweigh by far,
The casual eloquence of its exterior.

« Back to Press Titles