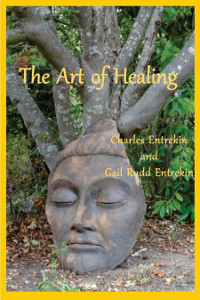 The Art of Healing
by Gail and Charles Entrekin
49 pages, price $16.25
ISBN 978-0-9860600-7-6
The Book
Gail and Charles Entrekin are well known to Poetic Matrix Press. We have published two books by Gail and one by Charles. In this volume they alternate pieces exploring the very trying journey through Charles' cancer. Charles writes confronting this in himself and Gail writes as his spouse, lover and caregiver. They both are gifted poets and through this writing they reveal the difficulties and extreme love that takes Charles to complete remission. To say this is beautiful is an understatement.
In this collection, both poets were moved to make sense of what was happening in their lives through the writing of poems. These poems reflect those two journeys, from Charles' cancer diagnosis, to treatment, to healing and the coming to terms with what remains; what it means to be alive.
Here, in the humid momentary
heat of summer's solstice
I find my shadow self, and passion;
throw off old cancer's green claim,
dream, begin to be whole again.
Yes, night moves inside me,
and I can set the stars in place.

This is a book for anyone who has come to know the meaning of suffering and healing. (from the back cover)
Linda Watanabe McFerrin writes an insightful Forward: "Charles and Gail's collection has a terrifying relevance made simple and everyday; in the end they come to a clear understanding. The poems delineate not so much a fight for life as for awareness, for an inner peace and the courage to continue regardless of the outcome."
"The Art of Healing is a fitting title for this volume that demonstrates that healing is, indeed, an art. It could also be called The Art of Loving because the love between Charles and Gail is palpable and inspiring. And it could be called The Art of Living, for it contains wise examples of how to be alive to each moment..."
– Ellen Bass (Author of Like a Beggar, poet and teacher)
The Authors
Charles Entrekin
Author of five books of poetry and a novel, Red Mountain: Birmingham, Alabama, 1965 (El Leon Literary Arts, 2008), Charles Entrekin holds an MFA in Creative Writing and founded the Creative Writing department at John F. Kennedy University and the Berkeley Poets Workshop & Press. Currently he is editor of the e-zine Sisyphus, a magazine of literature, philosophy and culture, and managing editor of Hip Pocket Press.
Gail Rudd Entrekin
Editor of the online environmental literary journal Canary and Poetry Editor of Hip Pocket Press. Gail taught college English Literature and Creative Writing for 25 years. She has published four books of poetry, the most recent Rearrangement of the Invisible (Poetic Matrix Press 2012). Her poems have been widely published in anthologies and journals and were finalists for the Pablo Neruda Prize from Nimrod in 2011.
Fellow poets:
Charles and I are very excited that this interview with me about our new book, The Art of Healing, appeared (by Mary Jo Brooks May 23, 2016) on PBS NewsHour. Thanks for perusing. http://www.pbs.org/newshour/poetry/when-cancer-changed-everything-writing-poems-was-an-act-of-healing/
« Back to Press Titles